AKII wins 1 Prize in the European AI Research Challenge organized by Merck Research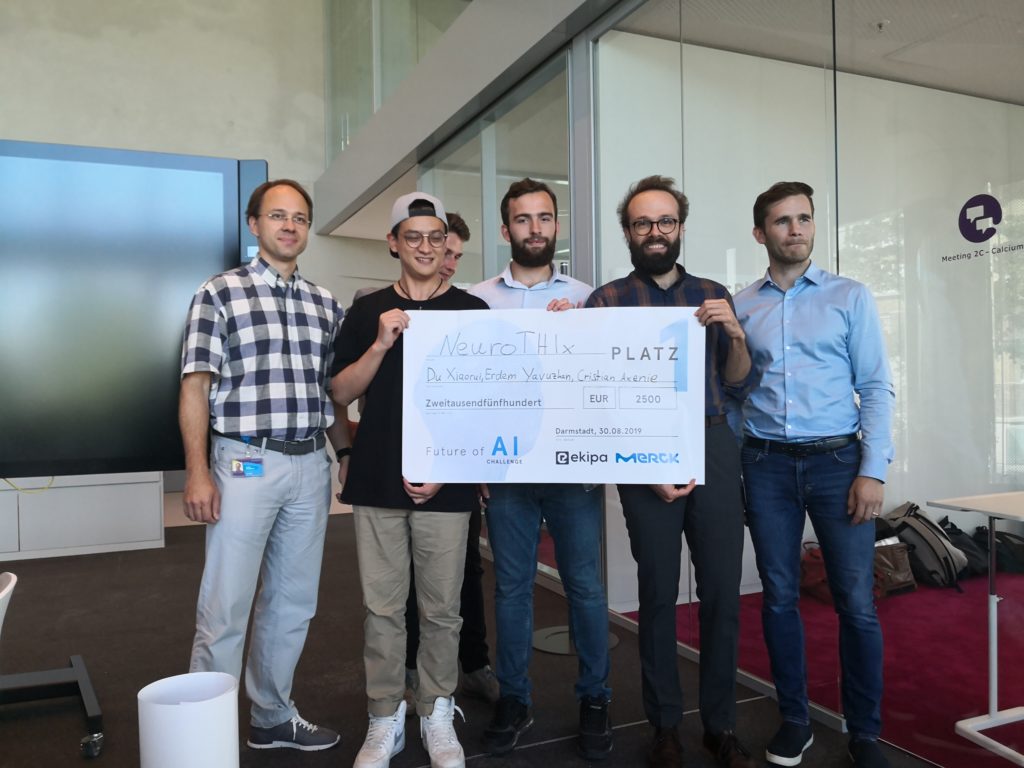 30th of August 2019
A team of two students from THI, Du Xiaorui (Masters, Computer Science), Yavuzhan Erdem (Bachelor, Mechatronics) lead by Dr. Cristian Axenie (the head of the Audi Konfuzius-Institut Ingolstadt Lab) have been awarded the 1st Prize in the prestigious European Merch AI Research Challenge.
Team NeuroTHIx, among the 72 initially participating teams, qualified for the final in June. Then a 1 day research bootcamp at Merck offered the team the possibility to refine their idea and after 3 months of development, NeuroTHIx was invited to pitch in Darmstadt at Merck's Innovation Center. On the 30th of August, team NeuroTHIx pitched along other 4 finalists and received the outstanding distinction.
IRENA (Invariant Representations Extraction in Neural Architectures) is the approach that team NeuroTHIx developed. IRENA offers a computational layer for extracting sensory relations for rich visual scenes, withy learning, inference, de-noising and sensor fusion capabilities. The system is also capable, through its underlying unsupervised learning capabilities, to embed semantics and perform scene understanding.
Team NeuroTHIx won a paid Merck research fellowship of at least 4 months in the AI Research Department. Additionally, the team got the chance to publish a joint scientific paper and also the chance to write theses with Merck. The prize also consisted in a check of 2500EUR.
Well done!